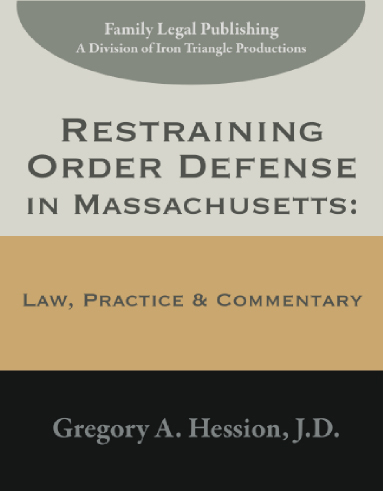 Restraining Order Defense In Massachusetts
Law, Practice and Commentary
| | | |
| --- | --- | --- |
| Introduction and Quick Start Guide – | Is Your Client the Victim of a Wrongly Obtained Restraining Order? | ♢ 1 |
| Part I – | What You MUST Know About Restraining Order Politics | ♢ 9 |
| Chapter 1 | What You must Know about Massachusetts Restraining Orders. | ♢ 11 |
| Chapter 2 | The "Iron Triangle" of Family Law. | ♢ 21 |
| Chapter 3 | What Happens to a Restraining Order Defendant; Why fight? | ♢ 35 |
| Chapter 4 | [Reserved] | |
| | | |
| Part II – | Basic Law and Procedure To Get a Restraining Order In Massachusetts | ♢ 41 |
| Chapter 5 | Is a Restraining Order Criminal or Civil? | ♢ 43 |
| Chapter 6 | How a Plaintiff Obtains a Restraining Order – Law & Practice. | ♢ 49 |
| Chapter 7 | The laws related to Five Types of Restraining Order Hearings. | ♢ 61 |
| Chapter 8 | What Is "Abuse" – the Legal and Political Standard. | ♢ 71 |
| Chapter 9 | Jurisdiction & Venue – Who Can Get a Restraining Order and Where? | ♢ 83 |
| Chapter 10 | Out of State Orders – Flee, Obtain, Register, Enforce. | ♢ 93 |
| Chapter 11 | Divorce Restraining Orders – M.G.L. c. 208. | ♢ 101 |
| Chapter 11A | Mutual Restraining Orders – A Politicized Minefield. | ♢ 105 |
| Chapter 12 | The Surly Teenager – Get an Order, Get Out of the House. | ♢ 109 |
| Chapter 13 | Dept of Children and Families' Coercive Use Of Restraining Orders. | ♢ 115 |
| Chapter 14 | VAWA, Immigration, and Tenancy Issues – Real and Imagined | ♢ 125 |
| Chapter 15 | Now Even Your Client's Dog Can Get a Restraining Order. | ♢ 133 |
| | | |
| Part III – | A Detailed Look At Restraining Orders and Their Effects | ♢ 141 |
| Chapter 16 | Detailed Look at Restraining Orders – Part 1 – Staying Away. | ♢ 143 |
| Chapter 17 | Detailed Look at Restraining Orders – Part 2 – Children & Money | ♢ 159 |
| Chapter 18 | Detailed Look at Restraining Orders – Part 3 – Guns and Roses. | ♢ 167 |
| | | |
| Part IV – | Clients and Other Difficult Life Forms | ♢ 175 |
| Chapter 19 | High Conflict Persons and Mental Health Issues. | ♢ 177 |
| Chapter 20 | The All-important Client Interview, Wherein You (May) Discover All the Bad News. | ♢ 185 |
| Chapter 21 | Get Your Fee up Front or Forget It. | ♢ 195 |
| | | |
| Part V – | Strategy – Plan and Organize the Battle | ♢ 199 |
| Chapter 22 | First Steps to Prepare for Court. | ♢ 201 |
| Chapter 23 | Core Legal Arguments Against Continuation of the Order. | ♢ 211 |
| Chapter 24 | If Children are On the Order. | ♢ 1229 |
| Chapter 25 | Getting the Right Strategy and Evidence to Win the Case. | ♢ 235 |
| Chapter 26 | Discovery – Surely You Jest. | ♢ 245 |
| Chapter 27 | Court Procedure for the Beginning Lawyer. | ♢ 251 |
| Chapter 28 | The Dept. Of Children & Families and What to Do about It. | ♢ 257 |
| | | |
| Part VI – | Prepare for Your Court Hearing | ♢ 263 |
| Chapter 29 | The Next Hearing – Be There. | ♢ 265 |
| Chapter 30 | Draft Affidavits in Response. | ♢ 271 |
| Chapter 31 | How to Make Witnesses Come to Hearings. | ♢ 285 |
| Chapter 32 | How to Get Evidence Informally. | ♢ 293 |
| Chapter 33 | Why, Oh Why, is The Plaintiff Doing This? Figuring Out A Motive. | ♢ 303 |
| Chapter 34 | Case Opinions ("law") You Need to Know. | ♢ 309 |
| Chapter 35 | Critical Paperwork Preparation For the Hearing & A Good Organizational System. | ♢ 327 |
| | | |
| Part VII – | Prepare Witnesses for the Court Hearing | ♢ 333 |
| Chapter 36 | Prepare Your Client for Court – Communication StyleAnd Court Procedure. | ♢ 335 |
| Chapter 37 | Prepare Your Client for Direct & Cross Examination. | ♢ 347 |
| Chapter 38 | Prepare to Cross Examine Plaintiff & Witnesses – The theory of "Gotchas". | ♢ 353 |
| Chapter 39 | Special Problems in Physical Abuse Cases. | ♢ 375 |
| Chapter 40 | Special Problems in Sexual Duress Cases. | ♢ 387 |
| Chapter 41 | Prepare Your Other Witnesses for Direct & Cross Examination. | ♢ 391 |
| Chapter 42 | Prepare an Opening and Closing Argument. | ♢ 399 |
| | | |
| Part VIII – | The Hearing | ♢ 407 |
| Chapter 43 | Start the Hearing Day Right: Getting to Court and Beyond. | ♢ 409 |
| Chapter 44 | the Extension Hearing: Law & Procedure. | ♢ 415 |
| Chapter 45 | How to Cross Examine Witnesses. | ♢ 427 |
| Chapter 46 | How to Get Documentary Evidence Admitted into the Record. | ♢ 443 |
| Chapter 47 | Be Ready for an Evidentiary Hearing. | ♢ 461 |
| Chapter 48 | All About Probate & Family Court Restraining Order Hearings. | ♢ 469 |
| | | |
| Part IX – | You Lost – What Next? | ♢ 477 |
| Chapter 49 | Going to Family Court to Get Parenting Time – The Essentials. | ♢ 479 |
| Chapter 50 | Motion to Terminate the Restraining Order. | ♢ 491 |
| Chapter 51 | Renewal Hearing at Months or Years. | ♢ 503 |
| Chapter 52 | Permanent Orders – Aren't Always. | ♢ 517 |
| Chapter 53 | Appeals. | ♢ 523 |
| Chapter 54 | Guns. | ♢ 529 |
| Chapter 55 | Criminal Violations – Fear the Reaper. | ♢ 535 |
| Chapter 56 | Expungement – If the Order is Totally Fraudulent. | ♢ 543 |
| | | |
| Part X – | Document Appendix | ♢ 549 |
| 1 | Mass. General Laws Chapter 209A. | ♢ 551 |
| 2 | David Letterman restraining order and affidavit from deranged applicant; | |
| 3 | Complaint for Protection From Abuse; | ♢ 579 |
| 4 | Care and Custody Affidavit – Rule IV of the Trial Court Rules; | ♢ 584 |
| 5 | Abuse Protection Order Blank Form; | ♢ 586 |
| 6 | Plaintiff's Motion to Modify or Terminate Restraining Order; | ♢ 590 |
| 7 | Defendant's Motion to Modify or Terminate Restraining Order; | ♢ 591 |
| 8 | Judge Coven's Letter – Come on Down and get your restraining order! | ♢ 592 |
| 9 | Application for Domestic Animal Restraining Order; | ♢ 593 |
| 10 | Domestic Animal Restraining Order; | ♢ 595 |
| 11 | Sample Defendant Affidavits; | ♢ 596 |
| 12 | Sample Witness Affidavits; | ♢ 614 |
| 13 | Notice of Appeal; | ♢ 621 |
| 14 | Affidavits to request child support; | ♢ 622 |
| 15 | Financial Statement | ♢ 624 |
| 16 | Child Support Guidelines Worksheet; | ♢ 631 |
| 17 | Power and Control Wheel; | ♢ 633 |
| 18 | Witness Subpoena | ♢ 634 |
| 19 | Subpoena Duces Tecum | ♢ 635 |
| 20 | Opposition to Extension of Restraining Order. | ♢ 636 |
| 21 | Motion to Terminate Restraining Order | ♢ 639 |
| 22 | Motion to Terminate Permanent Restraining Order with Affidavits | ♢ 646 |
| 23 | Motion to Reconsider Motion to Terminate Order | ♢ 660 |
Here is the first book for Massachusetts lawyers that will show you how to defend against a Chapter 209A restraining order. It is heavy on strategy, tactics, samples of witness examinations, and traps for the unwary.
Someone starting to learn restraining order defense will find all the basics here, which so many books skip. It also contains deep analysis of the key appellate cases and concepts for advanced evidentiary hearings and appeals.
One long chapter dissects the Iamele v. Asselin case and shows how courts apply it routinely. Another tries to make some sense of the difference between "Objective" and "subjective" fear of abuse. Two chapters explain how the Mass. Dept. of Children and Families use restraining orders, and what to do about it. Chapters address how to deal with orders from out of state, mutual restraining orders, and prodigal teens looking for an order. One chapter explains the entire legal framework of how restraining orders affect firearms.
And where else could you find a chapter on pet restraining orders? Yes, man's (former) best friend can now get a restraining order against his owner. So can his ferret.
The goal of this book is to enable you to practice Chapter 209A restraining order defense law as effectively as possible. This book is needed because the statute is poorly written, fails to provide defendants traditional elements of due process, and the law is applied with no predictability in court.
That's why the book deals with every conceivable restraining order topic with an emphasis on practical examples and how-to tutorials.
You will find this book written in an easy to read style, rather than the usual stuffy legal prose, from the viewpoint of what you must do before you stand in front of that judge at the restraining order hearing. And what to do if you lose, as well.
To look at the Introduction, which includes a "quick-start" strategy for putting together your whole defense case, click HERE.
To read the chapter on the elastic definition of abuse set out in Chapter 209A, Section 1, including a wry analysis of "objective" versus "subjective" fear, where our old law school friend, "the reasonable man", makes a cameo appearance, click HERE.